Some technical datas:

Harley Davidson FXSTS, 80 cubic inches, torque without end, loud and proud...

UNDERAGE SALE PROHIBITED !!!

The iron :

1994

original

Der Teufel sprach

TÜV - Ich hatte ihn

besiegt !!!

1995 -2010

2010 -....

Crumbling Marble

?

Don't steal! The Government hates competition.

It'is difficult to soar with eagles when you roost with turkeys!
...recently seen on a helmet in the Westport area of Kansas City...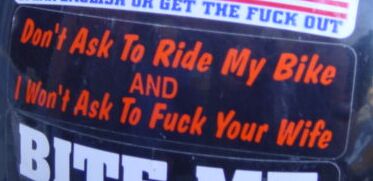 I am still looking for a Knucklehead, who can help me????